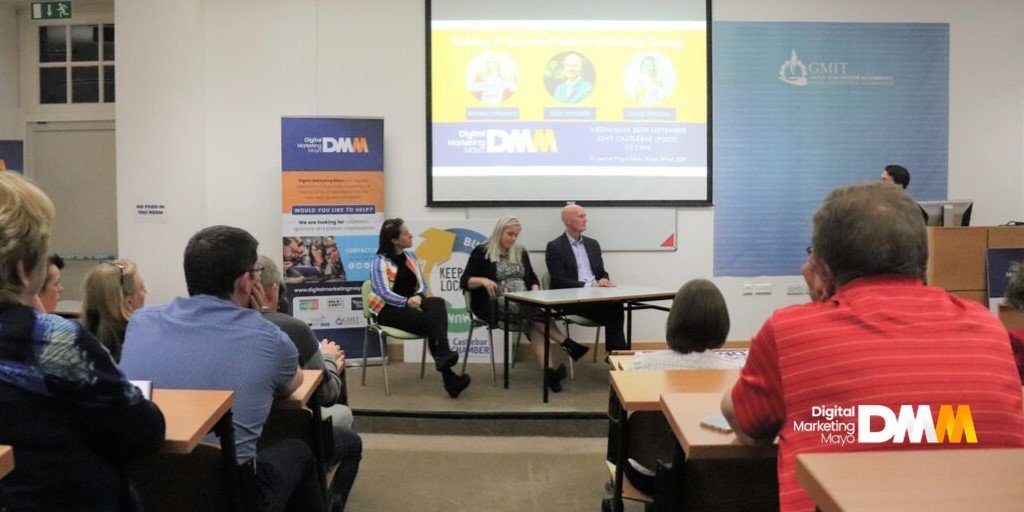 On Wednesday, September 25th, Digital Marketing Mayo held an event 'The First Steps to Building A Successful Content Marketing Strategy'' in GMIT Castlebar as part of Mayo Ideas Week. This event went back to basics where speakers Eoin Kenendy, Barbara O'Flaherty & Jenny Brennan focussed on current and useful tools to help you ace your content marketing.
Eoin Kennedy kicked off this event with his talk on 'Blogging Your Way to Free Promotion.' When planning a blog, he stated the importance of having a plan as part of your digital marketing strategy. He emphasized that consistency is key and this should be considered when planning your content calendar.
One thing important to note is that you need to keep your audience in mind at all times while blogging as otherwise you're just writing for yourself. Once you know your customer & their world it's much easier to sell & communicate with them. Today, "businesses are taking a more systematic, data driven approach to blogging."
Forward planning and giving your blog the time it deserves will help with its success. When planning your content you should plan ahead with a calendar. Take Christmas for example, plan blogs for this in advance as depending on your business and delivery times, it may be too late to push content last minute. The longer you're in business, the more aware you will be of your busy times where you will need to give an extra push. Planning ahead will save you preparing content last minute so that it's of better quality and stays consistent.
Some of the essentials you need for blogging include:
Hosting
Content – This needs to be quality content that people want and that adds value or it won't do well
Resources – Setting aside proper time to make it a success and not just rush something for the sake of it
Process
Promotion – If it is good enough to publish, it should therefore be good enough to promote
Overall, Eoin commented, "Don't be a perfectionist when blogging, it'll never be ready."
Next up, Barbara O'Flaherty, founder of Let's Get Digital concentrated on overall strategy and made a valid point that "If you have a plan in place, it's easy to communicate that plan with your team and analyse it easily to see if it worked." If you have a strategy in place you can track it's results and tweak it accordingly for going forward so there is less space for error. If you plan you content correctly, it can be a powerful way to bring across your personality so that people resonate more with your business.
While discussing tips to improve your strategy, Barbara strongly advised again putting up content for the sake of it and emphasized Eoin's earlier point of the importance of having content that adds value and will bring people back. She suggested that you can "recycle your content and repost it on social media platforms to bring more traffic to your blog/website" However, she advised against reposting the same content on your website but rather update it when needed. When creating videos it's a good idea to only put one piece of information into each video to keep the, short & concise which people prefer and will therefore lead to greater interaction.
While planning your content you need to concentrate on two things. Why are you posting? And what you are posting? Consider these carefully so that you can grab your customers' attention. To answer these questions it is more beneficial if you know the habits and interests of your customers so you can tailor your content, and the time you post it, around them. It is so important to know your customer.
Consistency of branding, as well as the tone and language you use is important while planning your content. In the current digital era, there is so much noise and people don't have the same attention span anymore so Barbara encouraged everyone to use their knowledge of their customers to "Hook people very early on and keep them involved."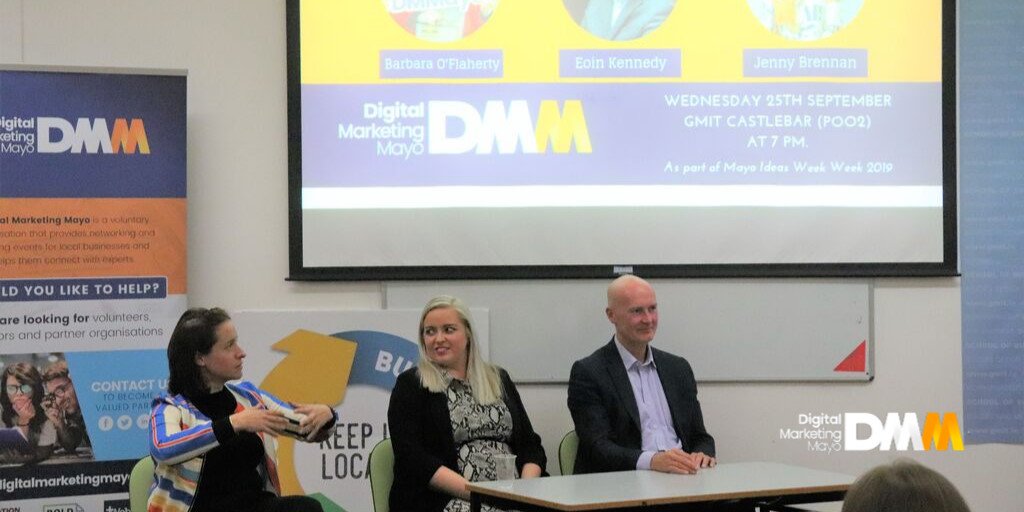 Once you discover the content you want to create for your brand, next you need to decide the best way of communicating this content. For some it's via a written blog, others video works better, with podcasts becoming increasingly popular. Whichever platform works best for you to tell your story is the one you should concentrate on. This content can then be reused in other forms in the future.
In a nutshell, Barbara's 10 Tips to improve your content marketing strategy:
Identify your target market
Have a clear goal
Understand your buyer's journey
Mix up your content
Start with the benefit
Test everything
Get inspired by influencers
Track your analytics
Experiment more
Repurpose your content
Next up, Jenny Brennan started by saying "Facts tell. Stories sell!" Throughout her talk, she reinforced the message that content should be all about storytelling. It's not about what everyone else is doing. You know your customers and you need to be yourself and there is no better way to do this than by using storytelling for your content. Awareness + Trust = Profitability.
But how do you get attention? To grow any business you can't keep going after the same people for customers. Guest blogging is a great way to get yourself out there. By writing guest blogs, your content is shown to bigger audiences, so your business is getting more exposure. Next you need to engage with those reading your content.
When using ads in your strategy, it is beneficial to set up an audience of people who interacted with your original ad for when you do the next one. Or begin a new audience of people who have already engaged with your content and develop different ads and images to keep the engagement going.Through analytics, identify target customers' interests and hangouts.
Jenny recommended Buzzsumo as another way of sharing and developing content relevant to your customer. It can be a useful tool to discover with the use of keywords what type of content in your industry has previously been popular and most engaged with. She also recommended you don't automate everything. Busy business owners often use tools like Agorapulse to schedule ahead of time so that they have plenty of time to engage with customers once it's out there.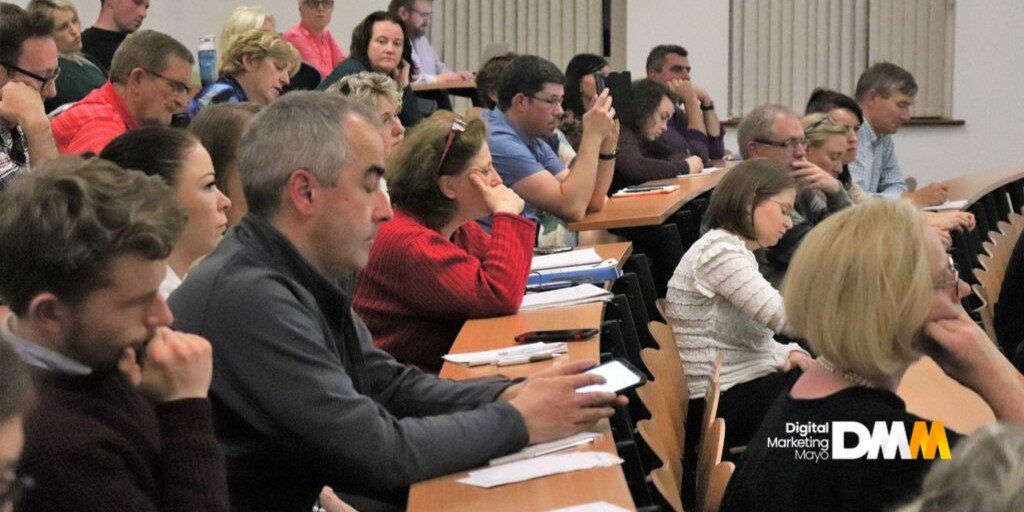 Closing out the event, DMM board member, Cormac O'Malley MC'd a panel discussion with the three speakers, with more questions coming from the audience. While their answers went into more details and examples for specific questions, they reinforced points already made in their presentations:
Start with your audience when you begin planning content. It's all about storytelling. You know your customers. It's not about what everyone else is doing.
If you try to keep up with everything new, your head will be spinning. Don't get daunted by latest technology. Use what's right for you. You don't have to be on every platform, just ones that are relevant to your customer. But if you want to know what's next biggest thing, children will be great to know what's new & trending. See what they are on
If you see someone doing something your not sure of, ask the question and people most of the time will be happy to fill you in.
For video, treat your YouTube page like you would Facebook.
Experiment but don't swim against the tide too much.
Create something that you enjoy as it will come across if your only doing it for the sake of it.
Duplicate your content, Make your content evergreen so you can repurpose it in the future. Then reschedule posts and test what's the best time for your customer.
LinkedIn is one of the few communities that if you do the basics right, you go up in ranking. Take a look at their algorithm where blogs & video content are golden opportunities to use on LinkedIn. Groups are also a great resource on LinkedIn for engagement.
Mayo Ideas Week 2019 is a week-long series of events that runs every September since 2010 with a focus on idea generation, entrepreneurship and business events. We were thrilled to once again be able to bring you an event bringing a talked about area of digital marketing back to basics.
Up next, we will host the inaugural Blacknight Digital Marketing Mayo Awards 2019 which will take place in Knockranny House Hotel on October 30th at 7pm. Early bird tickets still available here: bit.ly/BlacknightDMMAwards
Nominations via our website in seven categories are open until Monday, October 7th at 5pm
Best Social Media
Best Blog
Best Videography
Best Website
Best Use of Digital Marketing to showcase Mayo
Best Use of Digital Marketing by a Small Company
Best Use of Digital Marketing by a Large Company
Don't miss out, nominate yourself or a business you know today and come along on the 30th to see who is crowned the winner of each category.