On Thursday, March 7th, newly branded Digital Marketing Mayo, in association with GMIT iHubs, will host a two-hour jam-packed evening as part of Local Enterprise Week and to mark International Women's Day. From creating quality content to be clearly visible in a crowded digital environment to a panel of local female entrepreneurs discussing how they are using digital to enhance their business, this event will have something valuable for everyone. Tickets are €5, and due to limited availability of tickets booking via Eventbrite is essential.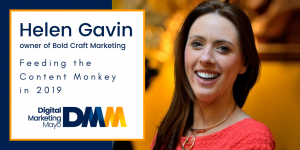 Helen Gavin, owner of Bold Craft Marketing – a Digital Marketing Agency based in Westport – will join us to discuss Feeding the Content Monkey in 2019. The demand on businesses to continually develop fresh and new content to convert online traffic from visitors to customers is greater than ever before. In 2019 the content standard has increased and in order to increase ROI for businesses the standard needs to be higher than ever before. Helen will be sharing some successful content marketing strategies and some key tactics on using good content to reach the right markets and increase sales. This talk is for people who are actively looking to increase their online sales in 2019.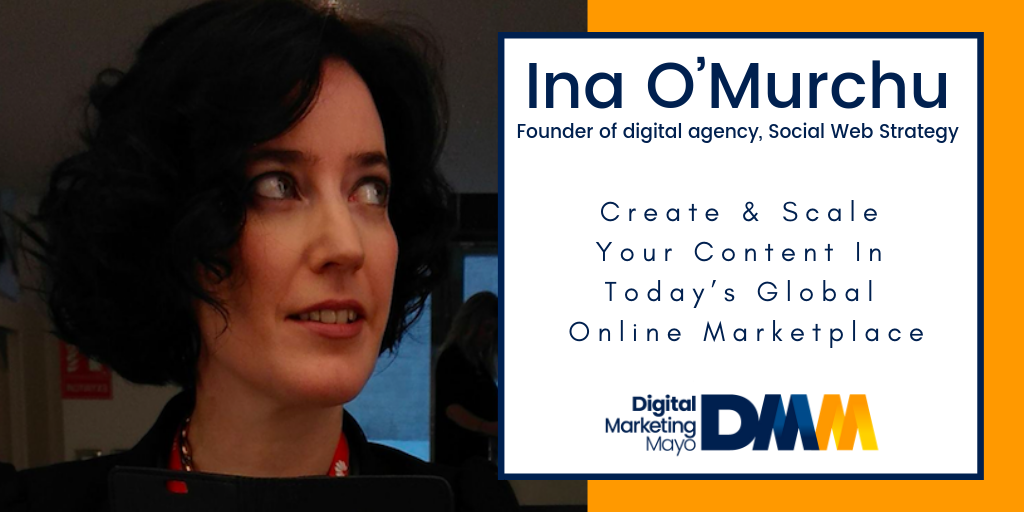 Managing Partner and Director of The Bitcoinference and Founder of digital agency, Social Web Strategy, Ina O'Murchu will teach us how to Create & Scale Your Content In Today's Global Online Marketplace. With increased digitisation and globalisation, technology is leveraging the playing field for everyone globally. It is more competitive now with Marketing online. To be visible in today's online world you need to create quality content to beat the algorithms and to be clearly visible. Using software Ina will do a short demo and show how it's done.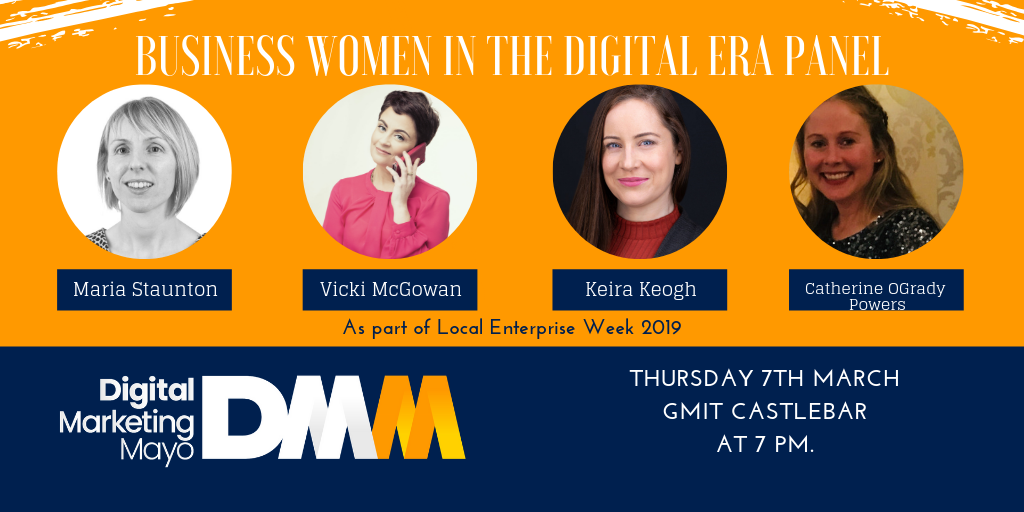 Maria Staunton will be leading the panel discussion on the night. Currently the Programme Manager of the EMPOWER Program, a three year initiative aimed specifically at female entrepreneurs in Galway, Mayo and Roscommon, Maria will talk to local female business owners about how they have used the changing digital climate to enhance their businesses. Keira Keogh, self-employed behaviour consultant as well as JCI Ireland National President and Vicki McGowan, founder and director of Outsource2day, will be joining Maria on the panel, as well as Catherine O'Grady Powers, Owner of Glen Keen Farm. Coming from different backgrounds, they will discuss the different approaches they use in order to strive in today's' digital era.
At the end of this Business Women in The Digital Era event, attendees will walk away with some practical ideas from these multitasking girl bosses. Celebrate International Women's Day with Digital Marketing Mayo in GMIT Castlebar on March 7th and be a part of Local Enterprise Week 2019.
Notes:
Digital Marketing Mayo is a voluntary organisation that provides networking and training events for local businesses and helps them connect with experts. Their secondary goal is to showcase Mayo's digital marketing talent to generate business and employment opportunities. Recently this organization have gone through a re-brand and created a partnership with GMIT and GMIT iHubs.
Digital Marketing Mayo are thrilled to have the support and sponsorship of Local Enterprise Office in Mayo and to have the opportunity to be involved in Local Enterprise Week 2019 – a national week-long series of event, in its fourth year, designed to aid anyone thinking of starting a business, and help new start-ups and growing SMEs.